Rotate the image for 180 degree View
×
1000049
Grey Tinted Progressive Lenses
Frame Details
Grey Tinted Progressive Lenses
×
What About My Eye Prescription?
Submit right at the end after your order is placed
You can submit your Eye Prescription after placing the order
Using any of the following methods:
Enter manually
Upload photo of your prescription
Get phone assistance from our optometrist
There's no hurry! Prescription can be submitted within 10 days of order placement
So go ahead and place your order & reserve your favourite eyewear while it's in stock
No additional charges for high / complex power
We do not charge extra for higher power, so lenses you've selected will be provided regardless of your power
×
Free Delivery (7 - 10 Days)
We guarantee you Free Delivery at your Doorstep within 10 Days of Order Placement
Free 14 Days Refund or Exchange
No Questions Asked. If you Don't like the Frames you have purchased, simply mail us at support@lenskart.us and as per your choice, you can ask for Refund or an exchange with another Frame
Free 14 Days Promise
Enjoy two weeks to try out our frames. Send back for a free exchange or refund. Free shipping always Learn More
At Lenskart, we guarantee the quality of our eyewear. If you are not happy with your glasses, simply contact us for a refund or a replacement.
Free 14 Days Promise
Lenskart has a 14-Day Fit & Style guarantee which allows customers to make an equal exchange or return with no questions asked.
365-Day Product Guarantee
Our 365-Day Product Guarantee means Customers are eligible for a one-time replacement pair within 12 months. A one-time replacement pair will be only issued if there are clear defects in material and workmanship.
Product warranty does not cover damage caused by accidents, negligence, or improper care.
×
Delivery Details
Delivered in 7-10 days
14 Days
Free Return
1 Year
Warranty
Free
Shipping
Free
Exchange
MEASUREMENTS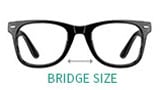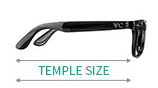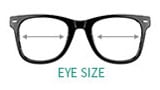 How to know your Face Size?
1 Credit Card Method: -
1. Take a Debit/Credit card
This is the approximate width of a medium Eyeglass, Sunglass
2. Stand in front of a mirror.
Place one tip of the card on center of your nose and touch the other towards the edge of eye.
3. Now check the position of the card: -
If card extends beyond the corner of the eye
Size is SMALL
If card roughly touches the corner of the eye
Size is MEDIUM
If card doesn't reach the corner of the eye
Size is LARGE
2 if you've existing eyeglass
You can easily found the size of frame by looking on the inside of your eyeglass temples (arm pieces). Below you'll find a quick guide to helping you identify your eyeglasses.
Lens Width & Frame Size
| | | |
| --- | --- | --- |
| Frame Size | Eyeglasses | Sunglasses |
| Small | Below 48 mm | Below 55mm |
| Medium | 48 mm- 55 mm | 56 mm- 64 mm |
| Large | Above 55 mm | Above 64 mm |
We select the best index as per your eye power
| Spherical Eye Power | Index |
| --- | --- |
| 0 to -5 | 1.6 |
| -5 to -9 | 1.67 |
| -9 & Above | 1.74 |
| 0 to +3 | 1.6 |
| +3 to +6 | 1.67 |
| +6 & Above | 1.74 |